Survey Maintenance Screen
The Survey Maintenance screen displays a table of existing survey information and an editor form for creating, updating and deleting surveys. A survey can be designated as "anonymous", which means that survey respondees aren't required to enter any identifying information. The survey type can be configured as "Interview" or "Template". The Interview method allows a user to create and maintain questions through an editor screen. The Template survey type provides the ability to upload and import an HTML document containing a form. Fields on the form are detected and stored as questions for the survey in the database. A survey can be deactivated so that it doesn't appear in the main menu by unchecking the "Active" box on the form.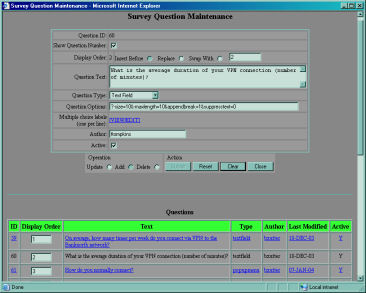 Question Maintenance Screen
The Question Maintenance screen provides a means to edit the questions that will comprise a survey. Question items will have an automatically generated question number displayed if the "Show Question Number" box is checked. Text inserts that are displayed within a survey typically are displayed without a question number. New questions can be inserted before an existing number, or replace an existing question. The entire set of question numbers can be rearranged by editing the numbers in the question table. Question types supported include text field, text box, radio buttons, drop down lists, checkboxes, and scrolling lists. Each question type has its own set of display options. These options are editable through a pop up window that appears when the question type is selected or when the "Question Options" link is clicked. Selections for multiple choice style question types are specified by clicking the multiple choice label "View/Edit" link. This link opens a pop up editor window for selection labels and related configuration settings.